A new and improved thick triangular pencil with and without eraser! The three sides created by a triangular shape provide wider surfaces for pointer finger, thumb and middle finger. The finger surfaces are also presented at better angles for hand structure. The result is better feel and therefore more relaxation. If your student is pinching and squeezing with multiple finger involvement, select this thicker pencil. A thicker barrel separates the small muscles and allows better gross involvement. It means that the child is able to use the muscle groups that we want to train for fluent writing later on.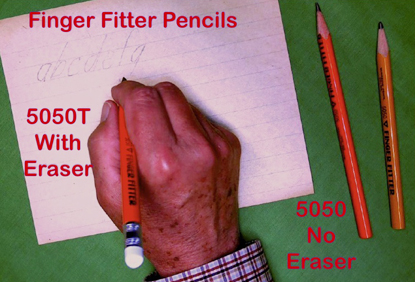 We have 9 styles available! The ergonomic design is aimed at reduction of grip pressure for people suffering from carpal tunnel and arthritis. For training children, the shape promotes better thumb position for both right and left-handed writers which improves involvement from the pointer finger without pinching and distention of the distal joint.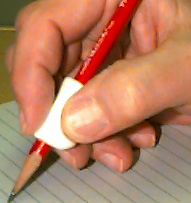 Our wall alphabet cards present models in our exclusive Color/Rhythm. If your student needs to look at a wall card model we provide more information than most. The model not only shows what the letter looks like - it also shows how to build the letter. Green, Brown, Red illustrates the correct left-to-right stroke sequence. The cards also serve as flash cards and, for pupils who are having difficulty, they can be used for gross-motor finger tracing. Color/Rhythm also provides an alternative to action words for direction of practice. Chant the colors as you move. Counting for word practice is fun but it can be difficult to teach. Color/rhythm also makes it easy for pupils to learn how to count as a rhythm alternative - one count for each color in the letter.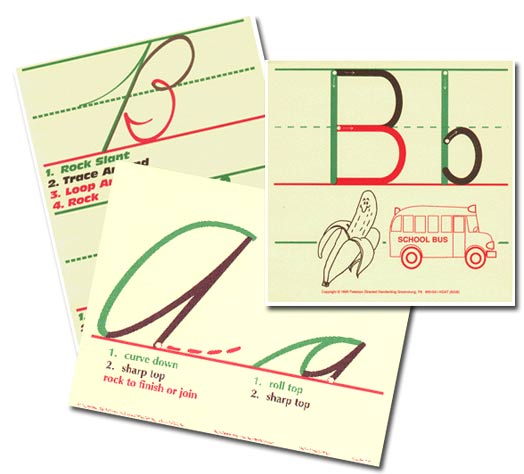 This tool was created in response to our extensive research which involved thousands of digital handwriting samples collected from adults and students at all grade levels. Along with pressure and movement measures, the digitize recorded pen angles which relate to arm or wrist and finger movement. The measures revealed an ergonomic relationship that is critical for fluent application of handwriting movements. The position of the paper relative to the writing arm, wrist and hand is critical for control of fluent, legible handwriting. The pupil who does not learn to position the paper and writing arm correctly, must constantly fight to accomplish left-to-right movement in the space they are using. Less than optimal writing hand position, relative to the paper alignment, blocks or retards movement in the proper direction. The position guide provides constant guidance for correct paper placement and it also makes it easy for you to spot pupils who need a reminder during applied work.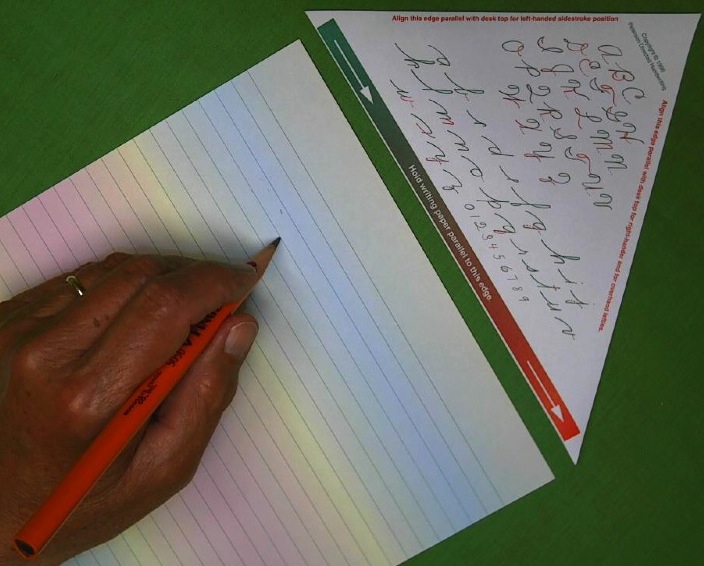 Alphabet Desk Strips Self Adhesive desk strips are packaged in sets of 32 strips and feature our Color/Rhythm Alphabet. Extensive research into the impact of positions skills reveals that paper-holding skills are extremely important for fluent handwriting. Our unique Position Guide provides the Color/Rhythm models you want on the desk, and it also provides guidance for paper and arm position that is critical for fluency and legibility in applied work. The guide not only provides a reminder for the student, it also makes it easy for a teacher to spot those who need to be reminded about holding the paper correctly.