E-Book Teacher Handbook serves all cursive levels!
"Yes, You Can Teach Cursive" was developed to allow easy access for parents and teachers anywhere in the world. Purchase through our web store and download to your machine.
The movement-based sequence of lesson plans guides learning for students at any age with the unique Peterson strategy used successfully by teachers and parents since 1908. The lessons can be used to improve skills and fluency for students who have had some cursive experience, or to introduce written language with the cursive alphabet at the entry level.
Samples have been created to allow you to learn the strategy and try the teaching process with your students. The sample documents available for download below, are partial copies of the new cursive teacher handbook and the e-workbooks. Additional samples will be added as they are created.
        Cursive Step Three          E-workbook Sample:
Animated Letter Cards are Simply Revolutionary!
Animated Letter Cards are producing amazing results.
If your student is having handwriting problems please try this now.
It was Harry Potter, the popular fantasy wizard that gave me the idea. Pictures that moved!
Could I make letterform models that moved? It may be a while before the wall cards in classrooms move. But you can have moving images for handwriting instruction now. Letter strokes appear as if written by an invisible hand. Your child learns how to build letters by writing in the air with the animation on the screen. Project the animation from your computer screen for air writing with the whole class.
Click on a link to try a few samples.
Vertical Print | Slant Print | Cursive
The Peterson Method Font Family
Thanks to Dave Thompson and his gang at Educational Fontware...
We are happy to provide a font package that provides the ultimate ease for correlating handwriting lessons across the curriculum. The latest edition "Peterson Method" font package has been expanded. It now provides Vertical Print, Slant Print and two versions of Cursive - primary proportion and adult proportion.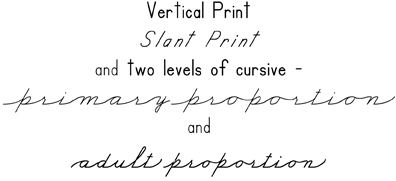 A special cursive version called Rock and Roll, allows you to create word lists called "Reading Puzzles." You could actually use this Rock and Roll style to measure the impact of handwriting training on decoding fluency.
Our fonts are designed for instruction - particularly the cursive fonts. They present the forms in a way that exaggerates the movement control process for improved student understanding. If your students want to print, our "cursive print" style will show them how to print using cursive letters. This special correlation of rhythmic movement and control will guide students who want to print, to discover how to make cursive work for them also. They will soon forget to lift between letters and will be able to take advantage of the increased automation and fluency that cursive offers. This process is rooted in both history and very recent motor research. If you would like to learn more about the movement research and this application strategy, please contact
Each face (vertical print, slant print and cursive) can be printed in several "styles" that greatly expand your ability to individualize instruction and create correlated activities. There are versions for both MAC and Windows operating systems. They are available in both Single User and Site License packages. The single user license allows one teacher to install the font package at home and on a school computer. The Site License covers all teachers in your building, both at home and at school. The site license provides ten user guides and includes both MAC and Windows versions along with some fun specialty fonts.
All of the font options are demonstrated in this pdf file. The samples are sized to fit in the space available. You can of course, adjust the output to the size you need. How big? Maximum size depends on your printer and software! The need to provide gross motor activity to affect change at fine levels is now clear. One of the best advantages of the font family is the ability to create models at a size your student needs.
If you have the original version of the font family, upgrades are available from Peterson or Educational Fontware.